Week 6: Oct 19, 2022
Midterm

---

Screaming/ Interactive ghost



Since it was a Halloween theme project, the first idea that came to mind was a ghost, pumpkin and the haunted house. I wanted the spirit of the surprising moment of the haunted house to somehow mingled into the ghost.

Therefore, I decided to make a intereactive ghost. A ghost that stays normal when nothing is detected but screams at the person in a certain distance. This interactive ghost turns 90 degrees when the motion is detected and turns back to the original spot when the detected motion disappears. When the signal is detected, the LED lights turn on from the eye, and the ghost screams ( buzz sound) at the same time.




From the feedback I've got from the lastweek, I was able to put all the sensors in one breadboard instead of two like above. I've fix the code for arduino and adjusted the tone of the buzz. Also, I had to extend the LED lights wire so that I can connect to the ghost eye.



Below is the testing video before mounting the sensors to the ghost.


All of the sensor is working with the ghost (90 degree movement , LED light, a bee sound.) with the code.

process photo—
crafting process for the ghost




After 2 days of drying —


Some Attemps that didn't work at first.


Adding LED to the ghost was challenging becasue of the texture of the ghost being very flowy.



Mouting the motor to the ghost.. This took me a long time. Heavy bottles were falling out easily so ended up going with the plastic waterbottle so that the motor could hold it and not fall out while turning. Also, the holding part for the ghost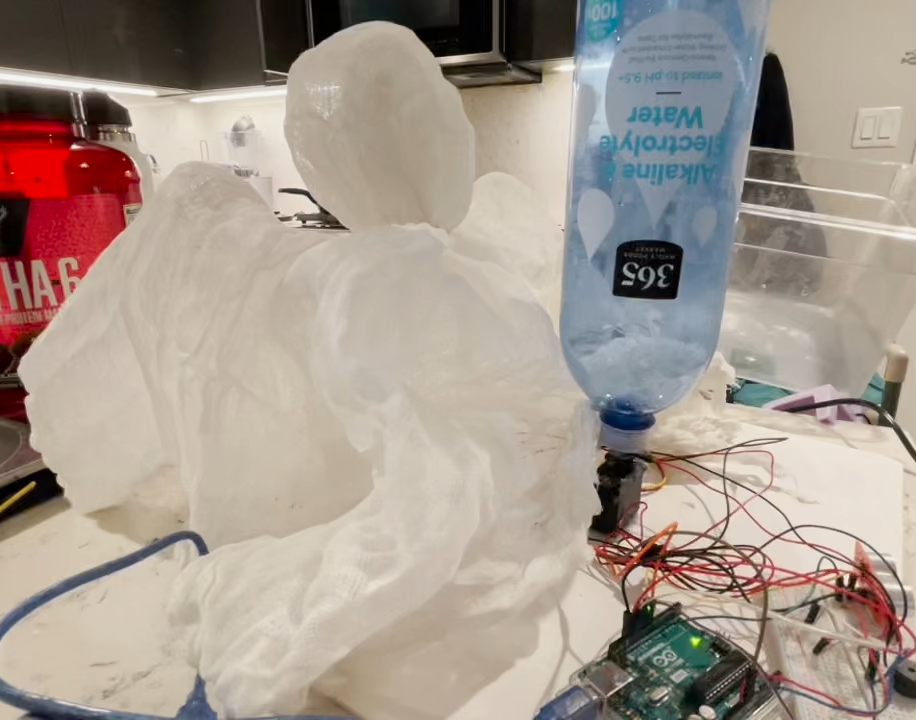 final outcome —
This is how it looks likes the pure dark.
I wanted to experience in the dark to see how the LED lights of the ghost eye would show up.

Below video was taken in the dark with the flash on.

Below is the zoom in version for the ghost eye.